Faerie Springs Farm
8846 Mapleville Road
Boonsboro, MD 21713
301-331-5096 - Suzanne C. Lucas- scl@faeriespringsfarm.com
301-730-4478 - Kate Hemphill - Herd Manager/Agriculture Consultant keh@
faeriespingsfarm.com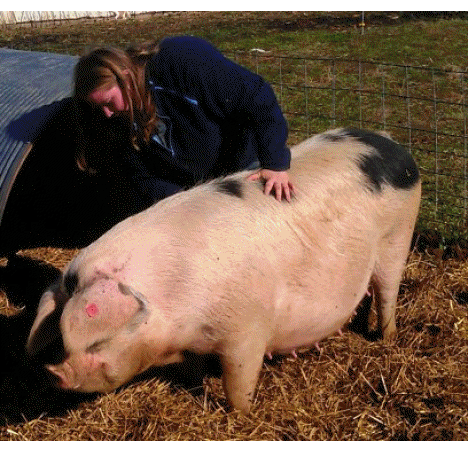 Faerie Springs Farm is a family operation raising animals and produce in a sustainable and ethical program which honors the special function and lifestyle of each animal and plant. Alexandra, Suzanne and Kate provide a variety of produce and meats with the honorable humane treatment of our animals and provide tours and knowledge to people of all ages of where their food begins and how it ends up on their table.
Farming is hard work and messy but it can be rewarding in many ways which is fortunate because the pocket book is not always one of them. Come visit with us and see our beef calves, Nubian, Saanen, and Alpine goats, (we milk the dairy goats at 7:00 am and 7:00pm from January to October.), Registered Gloucestershire Old Spot pigs, a variety of chickens, Narragansett and Royal Palm turkeys, various rabbits, Lincoln Longwool Sheep, and perhaps even kittens.
A farm is its own ecosystem, merging with the surrounding area. Depending upon the recent weather, we may have a sea of mud, a mountain of snow, or just plain dirt and dust but there is usually plenty of poo to go around from the barn yard to the compost pile.
Visit us on Facebook for our most recent pictures
We will post our attendance at various farmer's markets and events for 2014
Visit us Each Sunday Starting April 6, 2014 at Berkeley Springs Farmer's Market
10:00am to 2:00pm - Berkeley Springs, WV
by
Faerie Springs Farm
.